Another swoon-worthy novel on my list? You betcha!
The sixth place belongs to:
Stone Cold Touch by Jennifer L. Armentrout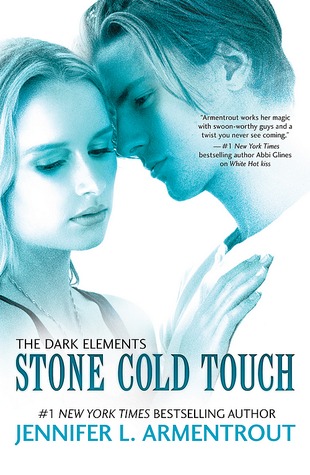 Synopsis:
Every touch has its price
Layla Shaw is trying to pick up the pieces of her shattered life—no easy task for a seventeen-year-old who's pretty sure things can't get worse. Her impossibly gorgeous best friend, Zayne, is forever off-limits thanks to the mysterious powers of her soul-stealing kiss. The Warden clan that has always protected her is suddenly keeping dangerous secrets. And she can barely think about Roth, the wickedly hot demon prince who understood her in ways no one else could.
But sometimes rock bottom is only the beginning. Because suddenly Layla's powers begin to evolve, and she's offered a tantalizing taste of what has always been forbidden. Then, when she least expects it, Roth returns, bringing news that could change her world forever. She's finally getting what she always wanted, but with hell literally breaking loose and the body count adding up, the price may be higher than Layla is willing to pay…
***
Date Read: November 5, 2014
My Review:
My rating: 8.5/10
***
Top 3 reasons why I love it:
1. Zayne
Okay, let's be clear about one thing. I'm actually rooting for Roth. I like Roth more and I hope Layla will be with him in the end. But Zayne... gah, I'm so torn! Stone Cold Touch is definitely Zayne's book. He reminds me SO much of Aiden. Like the fact that he still supports Layla even though she does something that most consider as, um, demonic. Or the fact that he will protect her at all costs (which is also the case with Roth... and Aiden). Or the fact that... well, he doesn't reveal his true feelings until it's almost too late (which, unfortunately, is also the case with Aiden). But Aiden is one of my favorite male characters of all time, and I can find a lot of similarities between Zayne and him. That just reminds me of good times when I read Covenant series.
2. Cliffhanger ending
Okay, I probably have mentioned before how I "hate" cliffhanger endings. I might have to clarify that. I "hate" it because I need to wait (typically) one more year for the next book, and that is totally killing me. But a cliffhanger ending is actually pretty awesome and sick as it sounds, I kinda love the feeling of waiting and let my imaginations run wild. This is the case with Stone Cold Touch. And it takes cliffhanger to a whole new level, in which pretty much anything can happen next. Everything is at stake at the end of the book. Ugh, I can't wait for Every Last Breath!
3. My admiration for Layla
I don't deal well with people who misunderstand me for their own flaming prejudices. I usually flip out and fling them the truth before storming out. Layla's control is pretty admirable because she can hold it together when people are judging her for reasons that can kill (literally). How she manages that is beyond me. She's incredibly strong yet still manages to keep her girlish side. Come on, wouldn't you call her fantasies with Roth or Zayne girlish? Layla is the true definition of girl power, guys. I love her.
***
Why I recommend this book or series:
Some might say this is just another love triangle. First off, this is NOT a love triangle. If it was, Roth and Zayne would also be in love (or at least just love) each other, which is all kinds of awkward. The only real love triangle exists in The Infernal Devices because Will and Jem cares deeply for each other. Okay, so it might be a love "angle" (this should be a trend, by the way). And it might be your typical love "angle". But it's not making me want to crawl into the bed and pull my hair out. I know this is subjective, but it's not an annoying love "angle". That counts for something, right? I don't have a lot of experience with gargoyles, and the few moments that I have aren't exceptionally enjoyable (I'm not a die-hard The Beautiful and The Cursed fan, even though it's an interesting book). This is probably the first time I enjoy a book with gargoyles in it.
***
Do I like the cover?
It's okay. I like the cover of White Hot Kiss more. I'm actually more curious about Layla's expression in this cover. Why does she look like she's not enjoying Zayne's gaze/touch/whatever?
***
Top 3 favorite scenes: (Spoiler Alert!)
1. Layla fighting the Nightcrawler
That scene is messed-up but really funny. Especially what happens before and afterwards.
2. Zayne's confession
It's sweet. I'd give him that.
3. When Bambi ate the Warden
Seriously, Bambi is awesome. I guess having a pet snake has its perks, huh? This is just... wow.
***
OTP: Layla/Roth. But I'm super torn now that Zayne is truly in the picture, reminding me so much of Aiden.