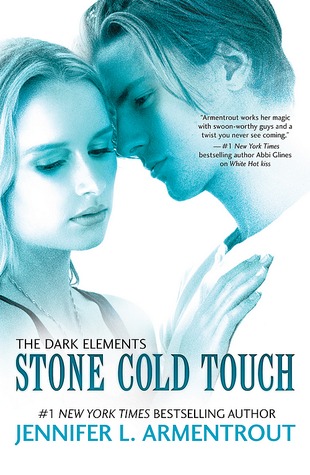 Synopsis:
Every touch has its price
Layla Shaw is trying to pick up the pieces of her shattered life—no easy task for a seventeen-year-old who's pretty sure things can't get worse. Her impossibly gorgeous best friend, Zayne, is forever off-limits thanks to the mysterious powers of her soul-stealing kiss. The Warden clan that has always protected her is suddenly keeping dangerous secrets. And she can barely think about Roth, the wickedly hot demon prince who understood her in ways no one else could.
But sometimes rock bottom is only the beginning. Because suddenly Layla's powers begin to evolve, and she's offered a tantalizing taste of what has always been forbidden. Then, when she least expects it, Roth returns, bringing news that could change her world forever. She's finally getting what she always wanted, but with hell literally breaking loose and the body count adding up, the price may be higher than Layla is willing to pay…
***
Stone Cold Touch reminds me of why I love Jennifer's books in the first place. Because oh, it's so good! It's a perfect mixture of humor and suspense (and a lot of heart-wrench, depending on your mental health). It seriously puts "impossible" into "impossible to guess", because a lot of things are really morbid but in a good way.
Layla is facing her biggest challenge yet: desire and rejection and mortal danger all blended into one. She has every reason to have low self-esteem. And for a little while she does. But she quickly stacks all the rage and devastation into a corner for her own good. This is actually pretty admirable, considering a lot of bad things happened to her in the previous book.
It's impossible to write this review without talking about Roth and Zayne. In White Hot Kiss I'm all about Roth, because he was, well, he was Roth. Sexy, hot, humorous, and most importantly, forthcoming. Whereas Zayne stayed in the background most of the time, even when Layla was pretty transparent with her feelings. It's hard not to root for Roth in the first book. However, Jennifer takes it further. She doesn't leave Zayne behind in this book. Of course she doesn't. She gives him a chance in Stone Cold Touch and for us to truly understand Zayne's feelings for Layla. And now I'm super torn. They are both good for Layla in their own ways (and of course, gorgeous). But I still think Roth is better for her. Roth accepts both her Warden side and demon side while Zayne struggles with her darker half. In some ways Zayne and Layla are better off as best friends because their relationship is... pretty complicated in their own way.
NOT TO MENTION THAT IT'S HARD TO GIVE ALL THE CHARACTERS CLOSURE WHEN LAYLA CARES FOR BOTH OF THEM. SERIOUSLY ARE YOU TRYING TO KILL US?
The best part of this book is the fact that there's seriously no way to guess the outcome of the book. Like, when everything points to a direction that everyone believes so adamantly, the real evil lurks behind everyone's back. Okay, that's an understatement. The evil lurks in front of their/our eyes and still they/we can't see it. How do you even do that? That's... just unbelievable. And now everything is thrown off balance again. I can't wait to read the final book, which I know it's going to be tense and awesome.
Rating: 8.5/10